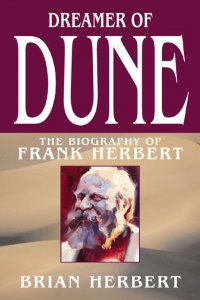 Everyone knows Frank Herbert's Dune. One of the most popular science fiction novels ever written, Dune has become a worldwide phenomenon, winning awards and selling millions of copies.
Brian Herbert, Frank's eldest son, tells the provocative story of his father's extraordinary life in this honest and loving chronicle. He has also brought to light all the events in Frank's life that found their way into speculative fiction's greatest epic. From his early years in Tacoma, Washington, and his education in the Navy and at the University of Washington, Seattle, through the difficult years of trying his hand as a TV cameraman, radio commentator, reporter, and editor of several West Coast newspapers, Frank Herbert worked long and hard before finding success.
Brian Herbert writes about his father's life with a truthful intensity that brings every facet of the man's brilliant, and sometimes troubled, genius to full light.
Insightful and provocative, containing family photos never published anywhere, this absorbing biography offers Brian Herbert's unique personal perspective on one of the most enigmatic and creative talents of our time.
Buy the Book!