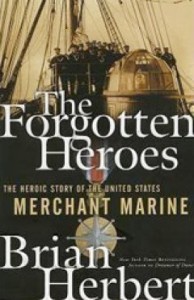 The United States Merchant Marine has a tradition-from the Revolutionary War to the present-day Gulf conflicts-of being in the forefront of every American military action. They have served with distinction in every case. Brian Herbert has chronicled the amazing exploits of these gallant seamen, assembling a fascinating array of data to describe the world of the Merchant Marine in peace and especially in war.
Drawing from historical documents, government records, diaries, and interviews with surviving veterans, Herbert has constructed a brilliant history that details the heroism, self-sacrifice, and grim determination that have been the hallmark of the United States Merchant Marine. He also reveals one of the great injustices of American history-the grave failure of our legislators that has allowed the veterans of the Merchant Marine to become the forgotten heroes of World War II.
The civilian fighters of the Merchant Marine performed feats of extraordinary bravery during World War II; they were the lifeline of the entire Allied war effort, delivering troops, materiel, food, fuel, and every essential needed for victory over the Axis enemy. While executing these duties, the Merchant Marine suffered losses so high that the casualty rates were kept secret.
At the war's end, the men and women of every other branch of the service were honored with parades and given medical and educational benefits. But the members of the Merchant Marine, who were so vital to our victory, have received neither the benefits nor the recognition they deserved. New York Times bestselling author Brian Herbert is part of the growing movement across the United States to right this terrible wrong.
The Forgotten Heroes is a history of the unsung heroes of the United States Merchant Marine and a plea for justice for these neglected veterans of World War II.
Buy the Book!